Neale and West Ltd
JJ Neale (from Ireland) and Henry West (of Bristol) set up in business together as fish merchants in Cardiff in 1885. In 1888 the company bought the trawler Lark, after which a significant fleet was built in Cardiff and Milford Haven. In Cardiff the company's base was in West Bute Dock.
The ships were given Japanese names (eg Fuji, Oku) following a friendship with a Japanese businessman and the company being involved in training Japanese trawler men.
During WW1, most of the Neale & West fleet was taken over by the Admiralty mainly for use as mine sweepers.  Seven were lost to enemy action, three while fishing before naval requisition.
What happened to the trawlers?
Hirose, June 2nd, 1915, attacked while fishing by gunfire from U-Boat. Charges/explosives were placed on the vessel and she was sunk when about 32 miles W of the Scilly Isles.
The Hirose had only been built two months before.
There were no casualties
Kyoto, November 2nd, 1916, sunk while fishing by U-Boat, 90 miles SWxW of Fastnet.
There were no casualties.
Hatsuse. November 14th, 1916, was sunk while fishing by U-Boat , 86 miles SWxW from Fastnet.
There were no casualties.
Miura, August 23rd, 1915, Miura was mined and sunk U-Boat off Great Yarmouth while acting as a patrol boat for the Royal Navy
The 11 crew were lost.
Hirose (replacement) June 29th 1916, mined and sunk off Aldeburgh Napes in the North Sea while operating as a minesweeper for the Royal Navy
There were 10 casualties.
Ijuin, July 22nd, 1918, attacked by the U-Boat gunfire Badly damaged, she was abandoned and scuttled in the Mediterranean off Alexandria.
There were no casualties.
Asama, 16 July 1917 sunk by gunfire from U-Boat while operating as a Q-ship for the Royal Navy, 190 miles west of Lundy Island.
1 crew member was killed
The remainder of the fleet requisitioned by the Royal Navy survived:
Fuji, Hatamo, Honjo, Kodama, Kunishi, Kuroki,
Mikasa, Miura (replacement), Nodzu,
Nogi, Oku, Oyama,
Sasebo, Settsu, Suma, Tamura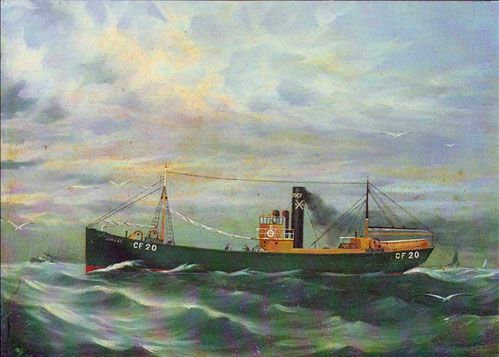 This graphic story of the fate of the trawler Hirose was related to a Western Mail reporter by the cook John Pert on arrival back in Cardiff.
"We left Cardiff at about 9.30 on Tuesday morning" he stated. "We were about 150 miles past Lundy at 5.30am when we first had intimation of any hostile craft in our vicinity. I was in my bunk when I heard the firing of a gun. I went up on deck and there saw a submarine about 500 yards from us"
"Her commanding officer who spoke good English shouted for us to leave ship in five minutes and we took our little boat and went aboard the submarine. Her officer then put three of his men in our small boat with two bombs. They went back to the trawler and, of course, it was obvious that they had left the bombs on board. As soon as they got back on the submarine the bombs went off and the Hirose began to sink stern first."
"On board the submarine were four of the crew from the trawler Victoria and all of our crew together with these four were put into our lifeboat and told to make away. We were left entirely to the mercy of the sea in an overcrowded boat and with meagre provisions. Waves were breaking over us mountains high and the gale was taking us at about seven or eight miles an hour. Every minute, through the night, we were expecting to be capsized."
"But it is to our captain, Francis Ward and the mate Frank Harrington, that we owe our lives and if it had not been for their fine seamanship in commanding our little craft, I don't think we should have pulled through"
Next morning, they spotted a steamer the Ballater and were taken on board. The Ballater was making for Marseille but took the trawlers' crews to Milford Haven where they spent the night before those from the Hirose returned to Cardiff.
"It was a rough time we had" the cook finished "I don't want to go through anything like that again"
SKIPPER OF TRAWLER ASAMA AWARDED D.S.C.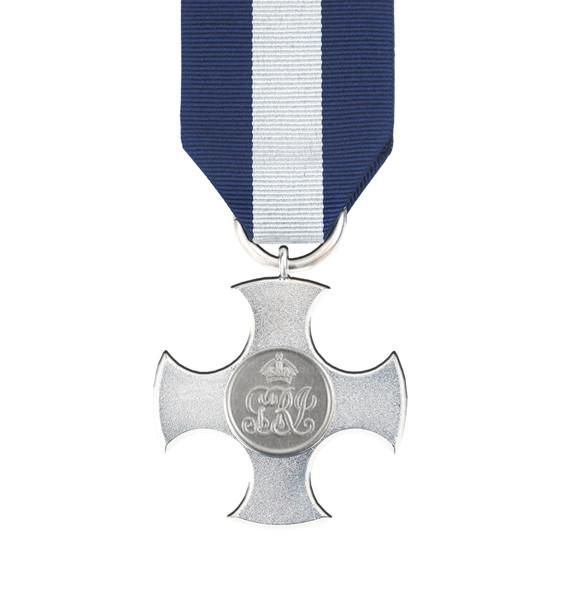 The Asama, which had been armed and requisitioned to the Royal Navy, was fishing west of Lundy Island and acting as escort to an unarmed Belgian boat. A submarine appeared and started shelling the Asama. The skipper, Albert Petherbridge, got the gun to work and began firing back at the U-boat keeping it at bay for about an hour and three quarters. During this time Skipper Petherbridge was injured with shrapnel and his clothing set on fire. The engineer was killed by a direct hit by a shell into the engine room. Other crew members were also injured and the boat badly damaged and close to sinking. Abandoning the ship, they took to their small boat which had to be patched with tarpaulin as that had been holed. A destroyer picked them up pretty quickly.
For his bravery Skipper Petherbridge was awarded the Distinguished Service Cross and two of the crew William Brett and Leonard Pillar were mentioned in despatches. (Supp to London Gazette 19 September 1917)
His injuries meant a spell in hospital for Albert Petherbridge, but he returned to his home in Grangetown Cardiff. He died in 1961, aged 76.