Tiger Bay - Preserving the Stories
Our aim is to organise and catalogue historical/archival materials, consisting of approx. 7,000 photographs of old Cardiff docklands and portraits of people of ethnically-diverse backgrounds in Wales; audio, and videotaped interviews of life histories and stories from local residents; and documents such as magazines or seamen's discharge books. All material relating to the people who (used to) live and work in Tiger Bay, or Butetown, and the Cardiff Docks and mostly collected by the now closed Butetown History and Arts Centre.
We are trying to digitise as much as possible, so it will be much easier  for people in Cardiff and all over the world to access and to uncover again all the great stories carried in those photographs, documents and interviews.
We are building an online archive of the material. It is far from complete but we are able to share what has been done to date.
Many volunteers continue to work with us to record the rest of the material so that you be able to find it there - so a big thank you to them!
view the online archive at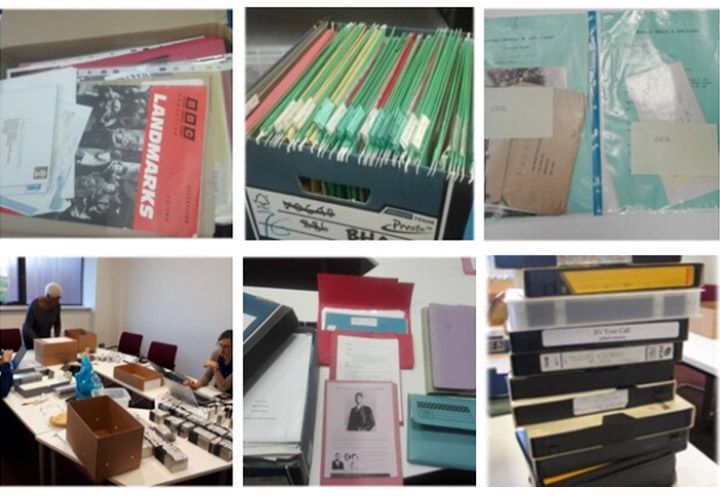 The collection is safely and securely stored on our behalf at the Glamorgan Archives in Cardiff. Our volunteers continue to work there, sorting boxes, recording all the books, papers, tapes and photographs that we have and adding them to the online archive.
The project started with over 95 boxes of mixed materials.
There are:
c.800 cassette tapes
minidiscs
hundreds of CDs
c.60 VHS tapes
books
newsletters and magazines
research papers
photo albums
newspaper articles
photographs (and lots of negatives as well)
seamen's discharge books, ration books and other personal documents
paintings and sketches
a school register
floppy disks (remember those?)
flags (mostly from the Norwegian church)
and lots of other papers and documents.....
Many of the boxes are still there. But now, a good year into the project, most of them are a lot more organised!